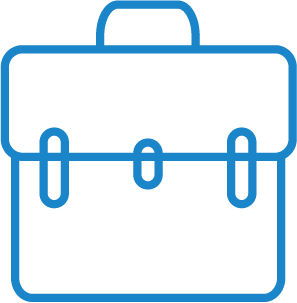 Business & Networking
How much does a virtual address cost: Virtual office prices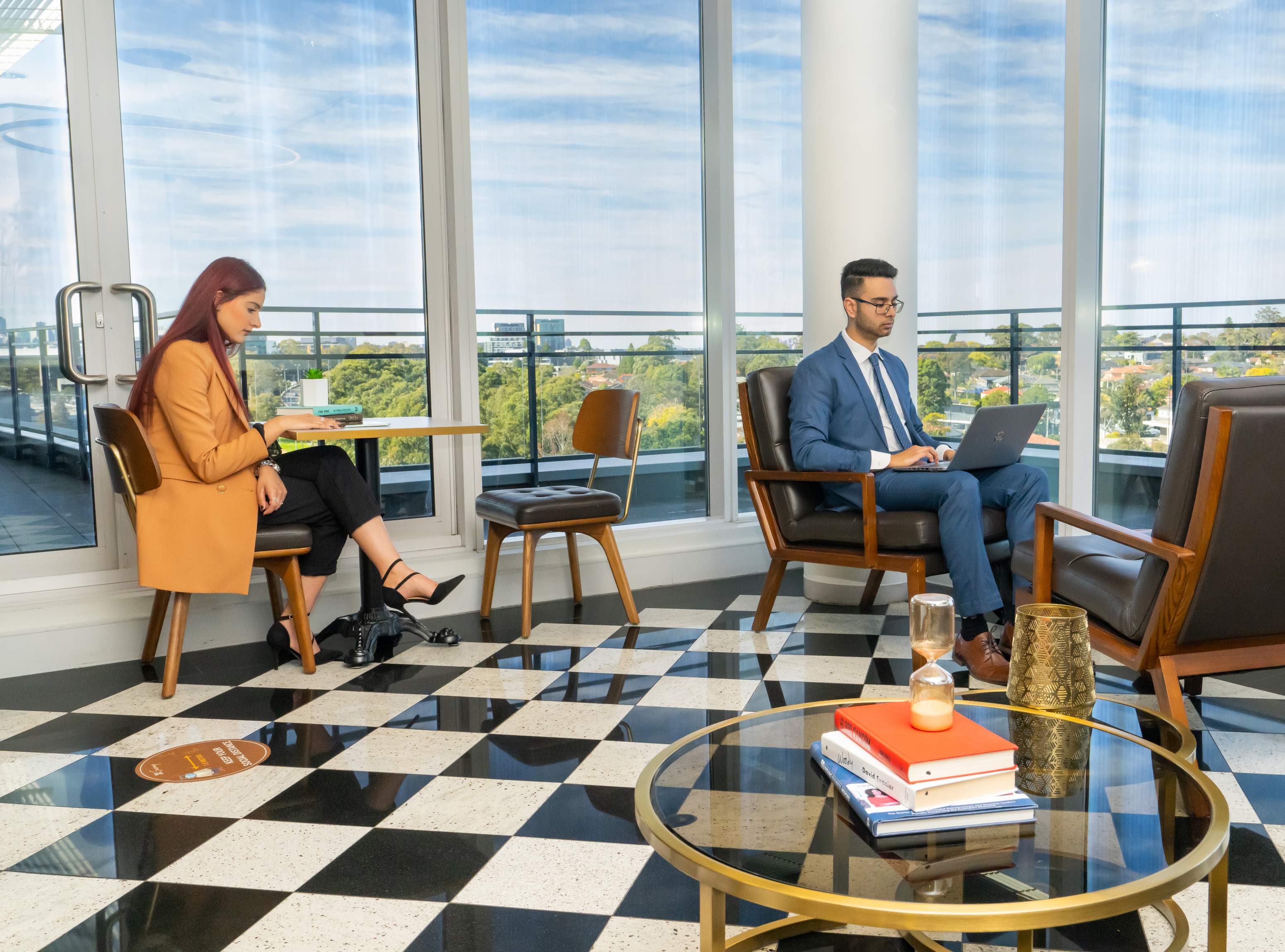 Virtual offices are becoming the popular go-to solution as remote working and flexible work styles have normalized. Although many businesses have teams working from home, they still need a professional business address for many reasons.
Table of Contents
Why you need a virtual business address
Your physical business address plays a key role in creating a credible image and trust amongst prospective clients.
Many businesses fall into the trap of using their home physical address for legal and marketing purposes, but this is a clear privacy and security risk.
A virtual office from Servcorp provides businesses with a competitive advantage through a prestigious commercial address. This virtual business address can be used for all legal obligations, business cards, websites, emails, and all other marketing material.
Servcorp's virtual office services can get businesses a presence in any market. They also comply with the laws of all US states and any country where Servcorp is present, allowing for a hassle-free setup.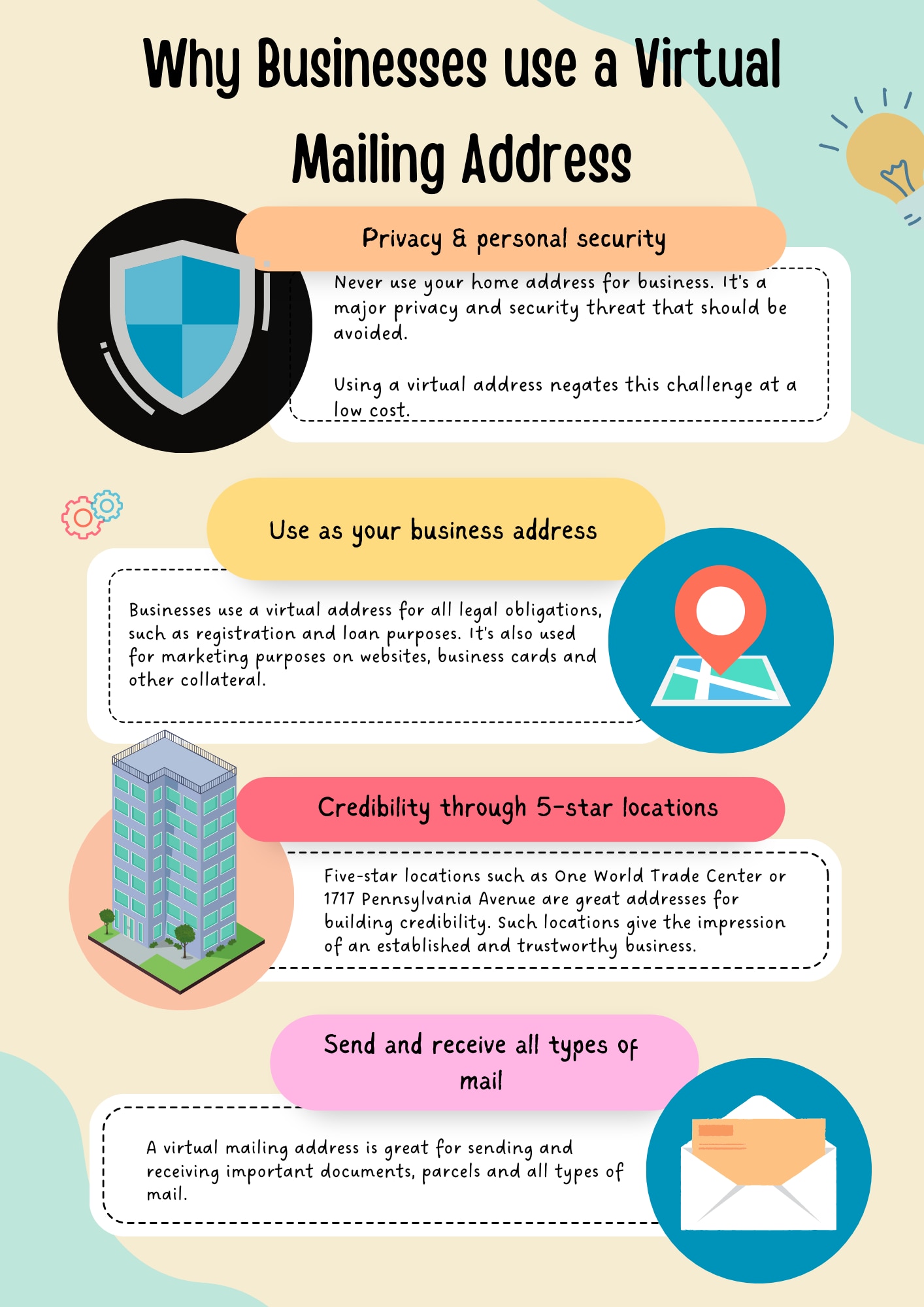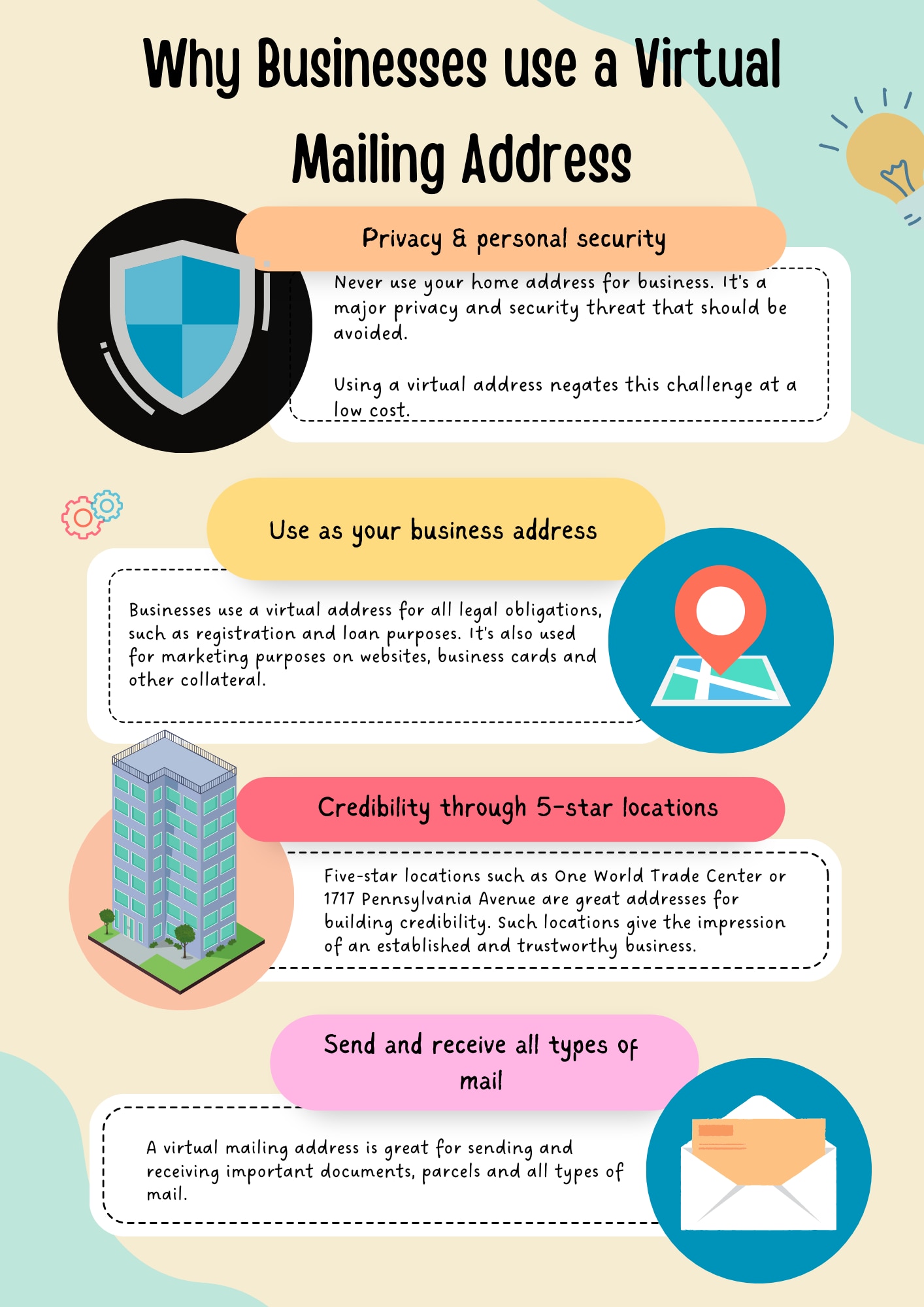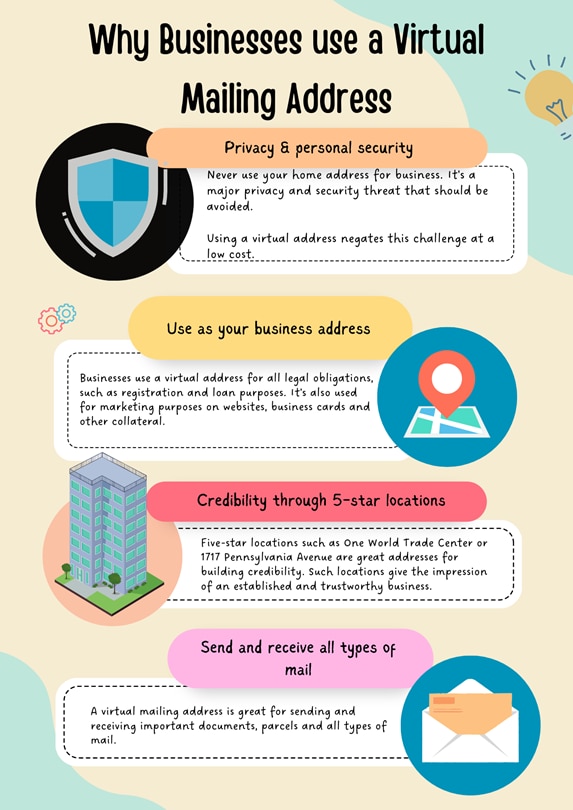 Better yet, a virtual office plan is far cheaper than a traditional office. For example, a business normally pays a lot of capital to acquire an office space at 1330 Avenue of the Americas, but with a virtual office address, it can be anywhere from $112 per month.
Additional services such as conference rooms, private offices, secretarial support, and dedicated receptionists are only paid on a usage basis, ensuring you're never locked into a contract you don't want.
But every virtual office provider's offerings are different from each other, so it's essential to understand what you're receiving for the money paid. Virtual office packages will usually have similar underlying themes but we will cover the most desirable addresses in the US, whilst only looking at the virtual office address plans.
Virtual office price
Virtual office solutions for a basic plan
Standard virtual office plans usually include a business address and mailing services, whereby the recipient of postal mail can pick-up it up or the team uses their mail forwarding services to deliver to an address selected by you.
But now is when the differences between a virtual office provider become evident.
A standard virtual office provider would charge their client a set-up fee, which can range anywhere from $100-$200.
Servcorp's virtual address service has a $1 set-up fee and no deposit is required towards the monthly rental cost, nor are they obliged to continue the service after one month - additionally, your first month is free.
Lease plans range from month-to-month, six months, and one year, giving ultimate flexibility - a perk highly sought by small businesses especially.
What else does a basic plan of Servcorp's virtual address services include?
Coworking: one hour per day of free coworking desk space for usage at your virtual office location, or any of Servcorp's worldwide locations.
Secure fax: gain access to secure fax technology (fax-to-email) which is essential in an era of cybersecurity importance.
Community: join a growing online community of 50,000+ business members to network, buy and sell with.
But ultimately, the cost of a virtual address depends on how prestigious the location is and the grade of the office tower. An A-grade office building in a competitive and business-centric area will cost more, but also deliver a much greater impression on prospective clients.
For example, a virtual office address in One World Trade Center New York can cost from $199, but the prestige and credibility a business receives are absolutely unmatched.
Other virtual office providers are likely not to have such an address.
Best virtual office services
We've covered the basic virtual office plans which include a real street address, virtual mailbox service (mail forwarding) and other competitive advantages such as access to coworking spaces, secure fax and a community to work with.
But a top virtual office company has a lot more to offer than just a professional business address, and it's the additional services that come in handy when your business is very busy. Let's delve into some extras you should expect from a virtual office service.
Let's say you rent a virtual office at 1717 Pennsylvania Avenue 10th Floor near The White House in Washington DC. It's a prestigious location and the basic virtual office plan is from $129 per month, but you decide to opt for the complete virtual office plan which is around $228 per month.
For only $99 more, let's see what a business receives with Servcorp's virtual office.
Dedicated receptionist
Businesses receive a local landline number and a fully-trained dedicated virtual receptionist to answer their business calls.
These calls are answered in your company name or as instructed by you. The receptionist can take messages, forward calls and complete frontline for business communications. It's also a complete business solution because the calls can be diverted to nine numbers, which means you can add your team as points of contact.
This is a great solution for small businesses with a lot on their hands, or an established business looking to expand their presence in another market or even downsize.
A service like this can cost upwards of $150 on its own.
Bonus:
Onefone - a smartphone app that lets you make and receive phone calls through your landline number on your smartphone. So whether you're on the move or working from home, the number displayed will always be a landline.
Coworking space usage
We mentioned with a Servcorp virtual address plan businesses are given an hour of coworking space access per day.
This number becomes 60 hours per month with the complete virtual office solution. For businesses that work remotely or hybrid, this is a phenomenal bonus because it gives access to a professional and a physical office space to work from.
And unlike other coworking spaces with shared Wi-Fi, these coworking spaces ensure everyone is provided with a unique password for the utmost safety of business data.
Coworking memberships on their own can cost anywhere from $200 to much more.
Private office space usage
If you often find yourself doing business on the move, you'll appreciate the three free days of private office usage outside your home city.
Private offices are fully furnished and are great for holding meetings with clients or simply doing work in a personal space.
And once again, a private office space will make a great impression.
IT and secretarial support
Administrative tasks can eat into business productivity and so can technical downtime.
You don't want to be in a meeting room, fiddling with remotes in front of your client. Instead, you can call the onsite IT support team and they'll handle any technical task ranging from simple to complex.
Similarly, there's onsite secretarial support to complete any tasks you might have. This support is paid per usage basis which aligns with the flexible nature of a virtual office.
Why should businesses use a virtual office?
Low costs
When you receive a plethora of services and amenities which increase business productivity, without any lengthy lease term and minimal risks at a low cost - the question is why not?
Instead of paying in excess of $100,000 per year for prestigious office space, you've gained all the benefits at a much lower cost. And the missing office space component is solved with access to coworking spaces.
Office space is usually a business's largest cost but with a Servcorp virtual office you can work from home, or in person - all at a much lower cost!
Trust and credibility
Would you rather make a large transaction deal with a business based in a residential home or a city-based location known for thriving businesses in a competitive market? The answer is obvious.
People are far more likely to trust a business on 17 State Street on the 40th floor in Battery Park New York, than a home address. Why? Because it doesn't seem professional. It's also a privacy risk and using your home address is never a great idea for personal safety.
Build trust through a virtual address or complete virtual office.
Risk mitigation
Can you confidently say your business can occupy A-grade office space for five years without having rent as a concern?
Virtual office services place an emphasis on flexibility, hence why many services such as meeting rooms are paid on a usage basis only. Lease terms are also short which means you have many opportunities to cancel the contract if needed.
Small business perks of a virtual office
Like a prospective client seeking to work with you or making a purchase, you also need credibility when applying for credit.
Like anyone else, a credit agency will assume a business is far more established if a reputable address is written on a form. Business credit is an indicator of a good borrower and it's always a plus to have positive credit in case future loans are needed.
Small businesses are more likely to struggle when renting their first office space, but a virtual office can bridge the gap. Virtual office services such as meeting rooms are great for meeting new clients, and not risking bad impressions by inviting them to a café.
Virtual office checklist
Here's a quick checklist that summarises all of the amenities and services that should be included in virtual offices that you browse:
Professional business address

Mail forwarding

Phone services - dedicated receptionist

IT support

Secretarial support

Meeting rooms

Coworking space access

Private office space access

Online community
Remember, not all virtual office providers offer the same amenities.
Ready to rent a virtual office? Browse a few US based virtual office locations and learn how to setup a virtual office.
Contact Us
If you've got any questions call us +1 212 220 8500 or fill in your information below and we'll get back to you shortly.